Hanwa's Commitment to Corporate Social Responsibility (CSR)
The business environment is undergoing a dramatic transformation: global environmental issues such as climate change have moved to the fore in recent years, consumers' attitudes and values are evolving, the gap between the North and the South is widening, and companies' operations are globalizing rapidly.
In these circumstances, it is vitally important that we fulfill our corporate social responsibility (CSR) in terms of economic considerations, legal compliance, the environment, customer relations, employee relations, and corporate citizenship. Management according a high priority to CSR enhances enterprise value while hastening the establishment of the sustainable society all of us desire.
As a trading company, we have diverse stakeholders and operate globally. Positioning CSR at the heart of our management and strengthening our commitment to CSR, we are devoting all our energy and expertise to the enhancement of enterprise value.
Hanwa's basic policy on CSR
Thorough legal compliance
Environmental considerations
Good corporate citizenship
Transparent management, proactive disclosure
Maintaining of financial soundness
Workplaces geared to employee self-realization
In March 2004 Hanwa established the CSR Committee to vigorously promote CSR activities. The Ethics Committee, the Environmental Promotion Committee, the Hanwa Scholarship Program and other organizations and systems related to CSR are operated under the supervision of the CSR Committee.
Outline of the CSR Committee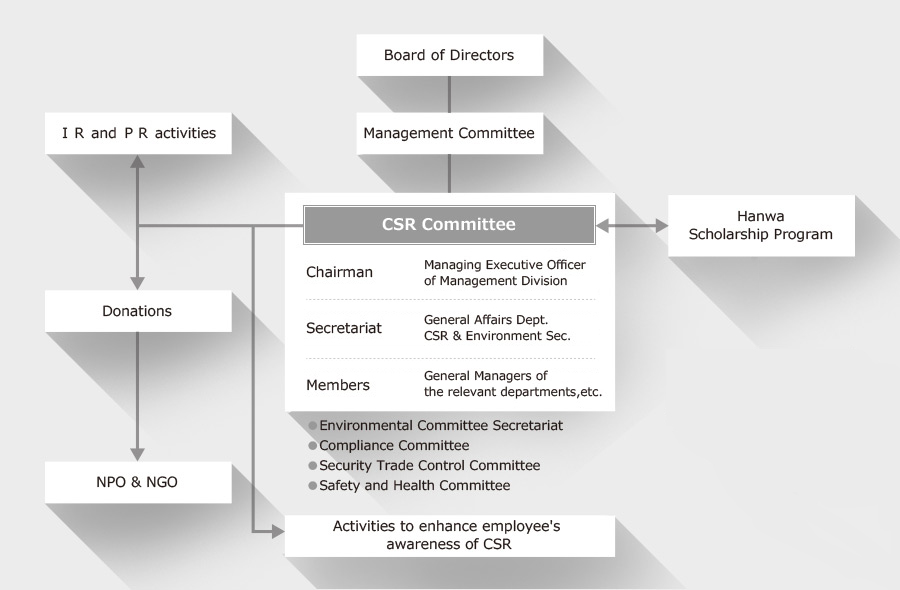 Compliance
Hanwa has established a Corporate Ethics Philosophy and a Corporate Ethical Standards. The Hanwa Compliance Committee oversees activities involving compliance, including the distribution to all employees and managers of a compliance manual produced by this committee. There is a strong commitment to corporate social responsibility at all Hanwa Group companies based on a thorough understanding of the importance of compliance and a dedication to observing laws, regulations and social standards for proper behavior. To prevent compliance problems, Hanwa places priority on openness and visualization.
The Hanwa Scholarship Foundation
The Philosophy of the Hanwa Scholarship Foundation
The Hanwa Scholarship Foundation was established in 1957. It is founded on the philosophy of "contributing to society based on an awareness of a company's social responsibilities." Jiro Kita, the founder of Hanwa, believed that people are a treasure for society as a whole. Helping educate many talented individuals is an endeavor that will have a positive effect on Japan's future."
Many young talented and ambitious students have a strong desire to study but do not have the opportunity because of limited economic resources and other issues. We believe that we can make a meaningful contribution to society by providing a scholarship program that reduce the cost of attending schools so that young people can fully develop their skills.
In fiscal 2015, the Hanwa Scholarship Foundation started an overseas study scholarship grants program that distributed scholarships of one million yen to each recipient. As the globalization progresses, the foundation is dedicated to giving as many university students in Japan as possible the opportunity to study in another country and gain the knowledge needed to succeed on a global stage.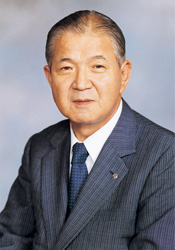 Founder, Hanwa co.,Ltd. And the Hanwa Scholarship Foundation

Jiro Kita(1912-1999)
Looking Ahead to More Achievements
In 2017, the program had distributed a total of ¥678 million in scholarships.There were 1,107 resipients: 82 graduate students, 874 university and junior college and vocational school students, and 151 high school students. Selection of recipients is performed by professors at prominent universities throughout Japan who serve as foundation board members,councilors and in other positions. Overall, Jiro Kita's tradition of placing value on personal relationships remains an integral part of the system for selecting eligible schools and recommending students for scholarships.
Many individuals who had received our scholarships are now in moved into prominent positions in business as well as academics, government, the law and many other fields. All proudly carry on the sprit that led to the establishment of Hanwa Scholarship Program.
In April 2011, the foundation was designated as a Public Interest Incorporated Foundation. The foundation has continued to follow the spirit of Hanwa's founder while utilizing its strength as a private sector scholarship fund. In April 2015 the Hanwa Scholarship Foundation started an overseas study scholarship program with no repayment for university students in Japan who want to attend universities in other countries.
The foundation is dedicated to assisting students with their studies in the field of politics, economics and culture. The foundation fosters the development of individuals with the skills to be among the most successful people in their chosen professions worldwide as the globalization of society progresses in the 21st century.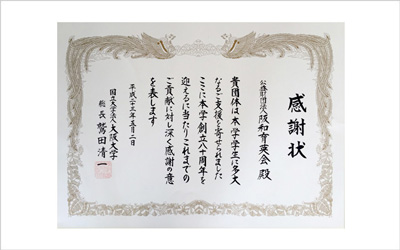 Profile of Hanwa Scholarship Program
| | |
| --- | --- |
| Total Assets | ¥678,356,120 |
| Number of Fiscal 2017 Scholarships | 25 |
| Number of Cumulative Scholarships | 1107 |
Summary of the Scholarship Program
Application period
April
(applicants must be accepted through schools in most cases)
Length of support
4 years, as a rule
Selection
Selections are made by Hanwa Scholarship Committee that takes into account recommendations of university
Scholarship
¥50,000 per month (university students)
Information disclosure
http://www.disclo-koeki.org/
Celebrating the Hanwa Scholarship Foundation's 60th Anniversary

The Hanwa Scholarship Foundation has provided assistance to more than 1,000 students since operations began in 1957. Due to the support of many people and organizations, the foundation reached its 60th anniversary in 2017 and held an anniversary party at the Chuo Denki Club. The foundation's president and other guests and executives offered congratulations. After a keynote speech, participants held an informational gathering.This event brought together many people who had not seen each other for a long time as well as the program's newest scholarship recipients. Participants heard remarks by individuals who received scholarships in the program's first year as well as by students currently in the scholarship program.
Hanwa Scholarship Fund 50 Year Anniversary Book
The Hanwa Scholarship Fund, which was established to celebrate the 10th anniversary of Hanwa, published a book covering the foundation's first 50 years history of operations. The book explains the foundation's activities and accomplishments during this period and includes a large number of messages, pictures and other information from current and former directors and trustees, students who received assistance, and others.
To apply for a scholarship
The Hanwa Scholarship Foundation accepts applications only from students attending designated schools. For more information, please contact the foundation.
Contact Us

The Hanwa Scholarship Foundation
4-3-9, Fushimi-machi, Chuo-ku, Osaka
541-8585, Japan
Hanwa Co.,Ltd. c/o Secretarial Office
TEL:06-7525-5618 FAX:06-7525-5305