Medium-term Business Plan
(FY2016-FY2019)
For the next decade, this business plan has the objectives of steady growth of Hanwa by earning profits in current business domains while achieving speedy earnings growth driven by group companies and strategic investments. In addition, there will be more strategic mergers, acquisitions and alliances to add more future sources of earnings.
Medium-term Business Plan Theme
The "Three S" Commitment –Steady, Speedy, Strategic
Build a medium to long-term sustainable profit structure and a stronger foundation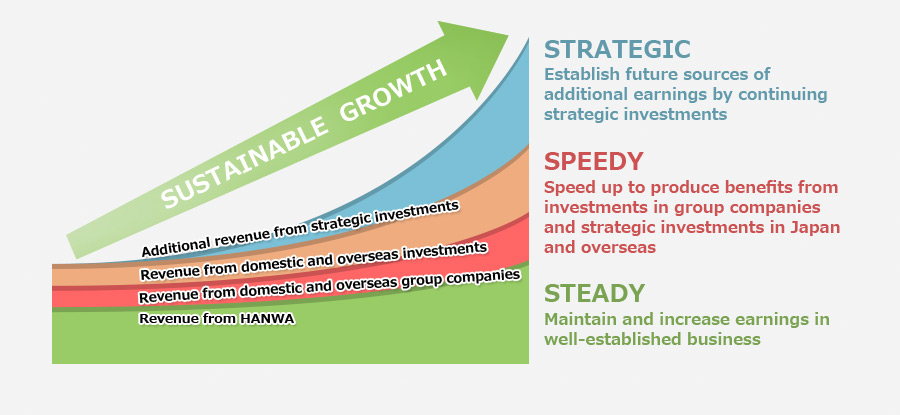 Quantitative Objectives
FY2015
FY2019
Net Sales
(Millions of yen)
1,511,800
2,000,000
Ordinary Profit
(Millions of yen)
OP Margin
(%)
15,424
1.0%
35,000
1.8%
New Customers
(Aggregate in 4 years)
2,075
2,700
Financial Strength
Strategic Investments for Future Growth: 50 Billion Yen in Four Years
Net Asset: 200 Billion Yen in FY2019
Net DER: Less than 150% in Four Years
Group Strategy: Basic Frame and Concept
The basic concept for Hanwa's human resources and organization is "Professional & Global&quote;. We are clearly stating our position that puts customers first. We will use HKQC (Hanwa Knowledge Quality Control) to improve business processes. By using these processes, we plan to conduct group business operations that further diversify our activities, facilitate unified group management and increase corporate value.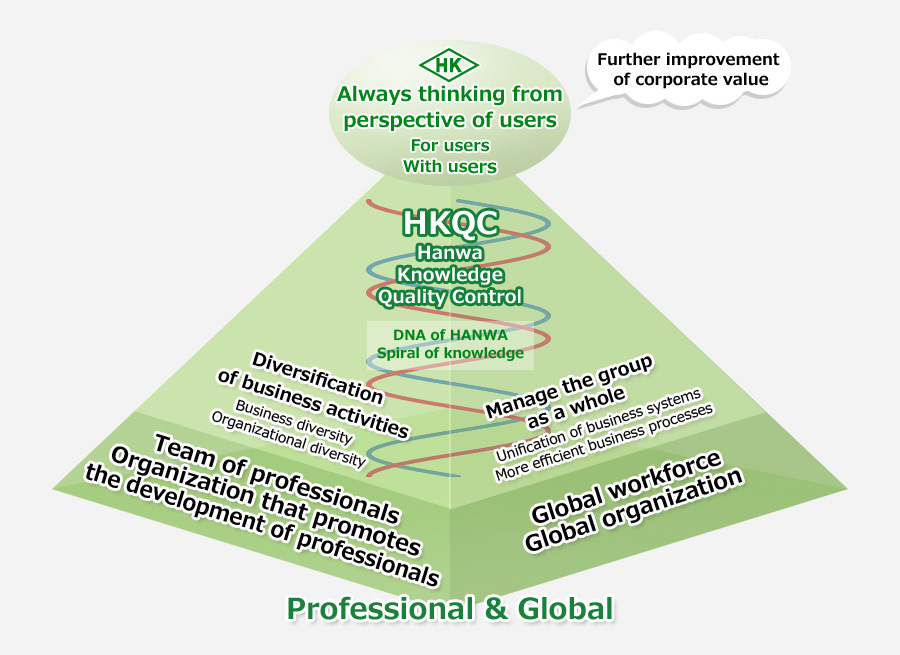 Basic Stance for Business Strategies
Value Chain Optimization
Our aim is maximizing earnings by capitalizing on all profit opportunities across the entire value chain. This will require higher efficiency and optimization at every stage of the value chain, from manufacturers and suppliers to users. To accomplish this, Hanwa willimplement assertive strategies centered on self-sustained growth and the diversification of business activities.

Build a More Powerful Base of Operations
Considering growth of our business operations as well as increasing number of group companies in mind, it is necessary to improve our corporate structure capable of allocating head office resources efficiently and effectively. There will be a relentless pursuit of efficiency while achieving the proper balance between respect for the independence of group companies and regions, based on their respective characteristics, and a integrated management system that prevent profit leakage.
More financial discipline and the best capital structure
A stronger group oversight framework
Upgrade information systems and make substantial ICT investments
Make the business climate the basis for training and using people
Fulfilling CSR activities with ESG management in mind
Responding to environmental, social and governance issues, we aim to enhance our long-term sustainability and increase our corporate value with untiring awareness of where our social positions should be.
Build a recycling-based society and achieve environmental load reduction
Use diversity as a management strategy for making the Hanwa Group stronger
Promote social contributions as our growth proceeds
Strengthen and enrich our corporate governance system