Medium-Term Business Plan
(FY2020-FY2022)
The theme of the Medium-Term Business Plan from FY2020 to FY2022 is 'Run up to "HANWA 2030" — Challenge to step into the Unknown beyond the present —' as the first step toward long-term growth ten years ahead.

We will strengthen corporate foundation and improve medium-to long-term profitability in well-balanced manner and advance initiatives aimed at achieving sustainable growth, based on a three-story structure that comprises "Management based on ESG, SDGs" as basement floor, "I. Strengthning of Management Foundation" as 1st Floor, "Development of Business Strategy" as 2nd Floor and "III. Monetization of Investment" as 3rd Floor.
Basic Policy on the Medium-Term Business Plan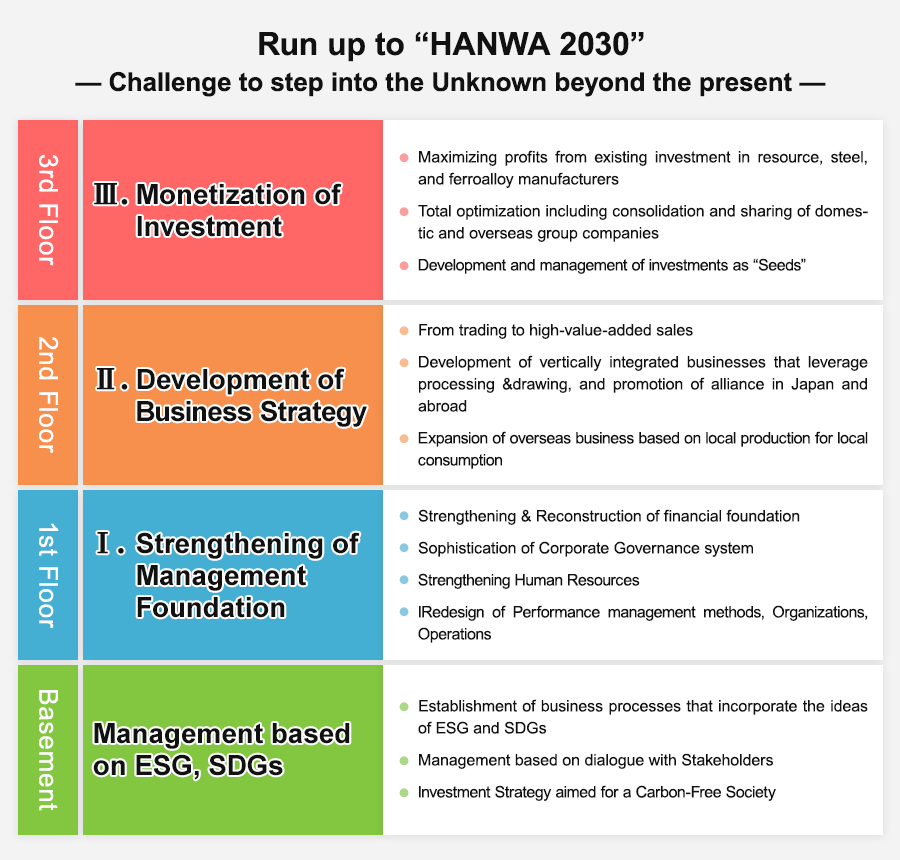 Quantitative Targets
Through development of business strategies in each business segment and monetiza­tion of strategic investments sown in the previous medium-term business plan, we will aim to increase transaction volume of steel and number of new customers across our group and achieve ordinary income of 30 billion yen. In addition, through financial discipline that emphasizes BS/CF and promoting investments/strengthening management of investments, we will strive to strengthen financial foundation that supports long-term growth by accumulating shareholders' equity to at least 200 billion yen and achieving Net DER approximately 130%.
FY2019
(Actual)
FY2022
(Target)
Net Sales
(billion yen)
1,907.4
2,100.0*1
Ordinary Profit
(billion yen)

(12.5)

30.0
Consolidated transaction volume of Steel
(million ton)
12.5
15.0
Consolidated number of new customers
(in total)
2,666*2
5,000
Shareholders' equity
(billion yen)
161.3
200.0 (or more)
Net DER
161%
approximately 130%
Investment amount
(billion yen / in total)
76.8
50.0
*1 "Accounting Standard for Revenue Recognition (ASBJ Statement No. 29)" is not applied in calculating Financial Targets for FY2022.
*2 Figures in FY2019 are the number of new customers on non-consolidated basis.
Management based on ESG, SDGs
We are so far contributing to realization of a circular society by engaging in scrap and waste recycling business as a distributor, enhancing national resilience through construction materials, and expanding sales of renewable energies. Going forward, we aim to further sophisticate circular supply chain management system through expanding transaction of biomass fuel, parts of battery for vehicle, etc. and achieve sustainable growth and coexistence with environment and society.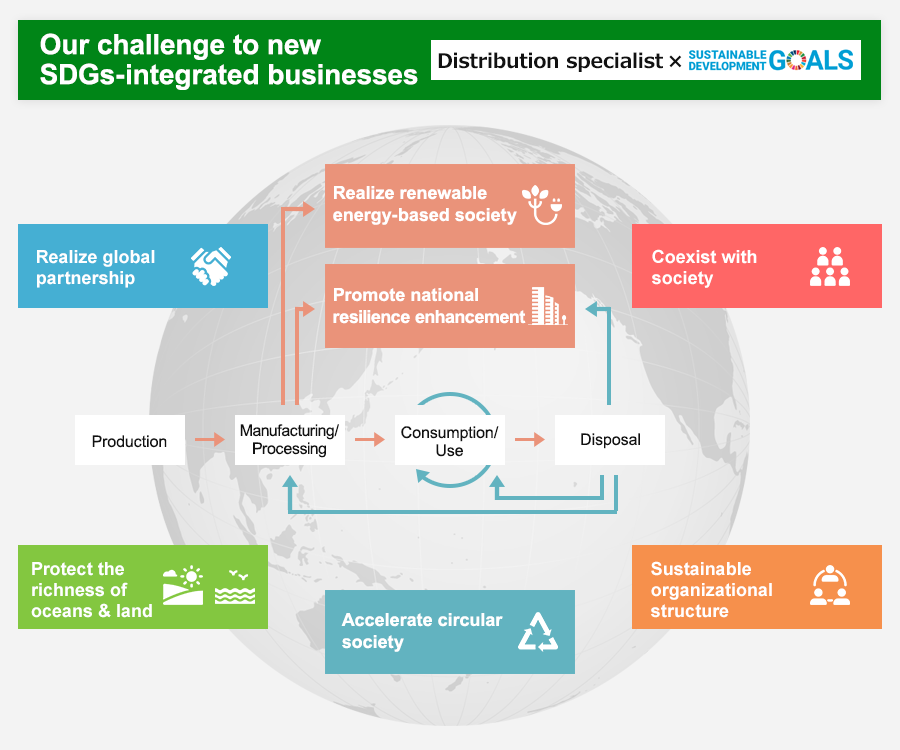 Outlook for 2030
Final goal for FY2030, 10 years after the start of this plan, is to earn an ordinary income of 50 billion yen and credit rating of A. We will make constant efforts to achieve further growth based on the four long-term measures – ①Inheritance & development of Hanwa's DNA ②Continuing selected growth investments ③Realization of optimal capital structure ④Returns based on earnings & financial conditions.